Discussion Starter
·
#1
·
Hello. I stumbled on this bracelet design and I'm trying to identify the knot used as it produces the effect I'm looking for for a lanyard, a nice scale looking round effect, and exactly what I'm looking for for a Phoenix/dragon Paracord bead!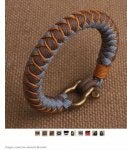 im still leaning so I may be wrong but I thought it was either;
a 4 strand 2 colour round braid maybe
OR
OR
but just doesn't look the same, then thought it May be
a double 2 colour snake
but again not quite the same. I'm just not sure either of those thoughts are right, Can anyone help. The bracelet was called a Dragon Scale 5 Element Bracelet, it had only photographs not detail or anything. This look is exactly what I was picturing when I picked up the bead just trying to find the right knot, as I don't want a flat knot and the effect once stitched is perfect. HELP!
These are the only photographs available. I included all the photos that were there, I know some include the cobra loop and other elements but thought it best to included everything. The beads on the blue and red and green bracelets are good too, and maybe someone can look and see how to do the entire thing, would be a gorgeous bracelet for a tutorial and it's effect is just that dragon scales!
ANY help would be appreciated.
Thanks
KaTyJs